Why Would a Contractor, Homeowner, Business Owner, or Property Manager Need a Dumpster for Construction Debris Removal in the Denver Area?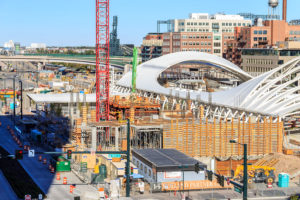 Contractors, property owners, or managers need a dumpster rental to remove construction waste when they are undergoing a remodel of their property. It is almost impossible to dispose of construction waste debris without a dumpster, especially a larger scale construction project. A pickup truck can only hold so much and by the time you are done taking so many trips back and forth to the landfill you will realize that it would have been much more cost efficient to have rented a dumpster.
Homeowners use our dumpster rentals for many DIY tasks like remodeling an old kitchen or bath.
Why Choose Dumpstermaxx over Waste Management?
First off, when you call us over a huge corporate company like Waste Management or other large dumpster rental companies you will speak with a live person and not go to a que system and wait forever to get a hold of someone. We are a small private locally family owned company and we put all our effort into providing the best quality service to our customers from start to finish.
We have many customer complaints about how terrible the service is from waste management and how hard it is to get important information like delivery time estimates, pricing info, or getting a hold of a manager to correct a situation.
Also, our cost is usually only about a fraction of the cost of what they would charge. Unlike them, we do not require a $500 deposit plus the cost of the dumpster. This makes it almost impossible for someone on a budget to get rid of waste properly. This is usually why you see a couch and a pile of junk on the side of an abandoned road. 
We offer convenient delivery and pick up times, we can be reached via phone, text, or email and service is completed within 24 hours or less.
Waste Removal Helps Keeps Our Beautiful City of Denver and Surrounding Areas Clean and Protects our Environment
One of our biggest goals with waste removal is Recycling. Whether you are removing junk from your garage or renovating an old kitchen our priority is to always recycle absolutely every piece that we can. We take the material to a transfer station where material is sorted and recycled. If any material cannot be recycled it will then go to a landfill.
Here Are Some Examples of Construction Debris That We Can Haul:
Drywall
Roof Shingles
Carpet
Windows
Concrete
Light Fixtures
Sinks
Tubs
Countertops
Aluminum
Brick
Wood
This list is a lot bigger. Basically, if it is used to construct a home than that material is allowed in our dumpster. We also take household trash like old couches, clothing, books, boxes, and other junk you may have in your home. If you are unsure whether it is allowed inside the dumpster please give us a call and we will be happy to help you.
Denver Dumpster Rental Service Areas
Adams County
Applewood
Arapahoe County
Athmar Park
Arvada
Aurora
Baker
Ballpark
Belcaro
Berkley
Bow Mar
Brighton
Broomfield
Broomfield County
Capitol Hill
Centennial
Cherry Creek
Cherry Hills Village
City Park
College View
Columbine
Commerce City
Congress Park
Cottonwood
Denver
Denver County
Denver West
Derby
Dove Valley
East Pleasant View
Edgewater
Federal Heights
Five Points
Foxfield
Franktown
Glendale
Golden
Great Ranch
Green Valley Ranch
Greenwood Village
Hampden South
Henderson
Highland
Highlands Ranch
Interlocken
Jefferson County
Ken Caryl
Lafayette
Lakeside
Lincoln Park
Littleton
Lodo
Louisville
Montbello
Montclair
Morrison
Mountain View
Northeast Denver
Northfield
Northglenn
Overland
Parker
Parkhill
Platt Park
Sheridan
Sherrelwood
Southeast Boulder
Southglenn
Stapleton
Sunnyside
Superior
Table Mesa
Thornton
Todd Creek
University
University Hills
Utah Park
Virginia Village
Walhurst
Washington Park
Washington Virginia Vale
Welby
Wellshire
West Colfax
West Pleasant View
Westminister
Wheat Ridge