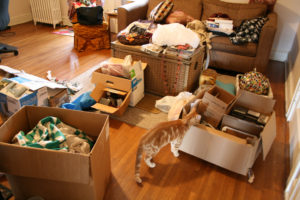 Winter has Oklahoma City in its teeth at the moment, but spring will be upon us in a few weeks. If you haven't considered it, now is the time to plan a whole home cleanout.  Things accumulate in our homes over the winter and clutter our living space. Dumpstermaxx can help you be on your way to a thorough spring cleaning by providing you with a roll off dumpster. You can declutter your home by disposing of it in the dumpster, and we will pick it up when you are through. There are other reasons why a whole home cleanout is beneficial to your family. Here are some examples.
It Gives You More Space.
Clutter and junk can pile up fast, leaving little room to maneuver and turning the rooms in your home into un-aesthetic messes. When you embark on your spring clean out, you will want to remove damaged furniture, broken exercise equipment, obsolete stereos, low definition televisions, and anything else damaged or unwanted that is taking up space in your home. When you are done with your spring cleanout, you will find that your home has more area inside it than it has in years.
It Prevents Rodents from Moving In.
One thing about clutter in your attic and your basement is that it can cover areas where a hole may exist. When these holes are discovered by rats, raccoons, mice or other rodents they inevitably widen them and make themselves at home. Cardboard boxes with old clothing, linen, or towels make excellent nests for these uninvited guests. Removing junk and trash from your attic and basement will allow you to locate these holes.  You can seal them off yourself or hire a handyman to close the gaps.
Removing Junk, Trash, and Clutter Makes You Feel Better.
A clear link between clutter and depression exists, the anxiety of dealing with clutter fuels it.  Seeing large amounts of clutter in your home can be overwhelming. Some people feel an acute sense of never being able to dig their way out of it.  The truth is that once even a little bit of clutter is removed, a person's mood can improve.  Of course, if the reason someone has cluttered a home is hoarding, there was already a pre-existing form of mental illness. As for everyone else, it is not unusual to become depressed by clutter, especially in the winter months. So if clutter is contributing to your winter blues, keep telling yourself spring is on the way, and you will declutter your home.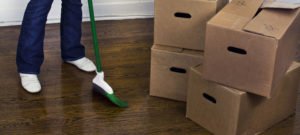 Cleaning Out Your Home Will Make You Healthier.
In the process of cleaning out your home, you will find that mold, mildew, and dust have been compiling behind boxes, bookshelves, old appliances, and other junk. Mold and mildew can be toxic and cause great harm to allergy and asthma sufferers. Dust mites can be nearly as bad as mold to both allergy and asthma sufferers. So those boxes of damp clothes in your basement are probably a veritable mold farm. The library no one uses in your home probably has a layer of topsoil on the shelves because no one can reach them. Dust mites thrive in those types of environments. Clearing out these rooms will allow you to get in and clean them.
So take heart, spring is around the corner, and your whole home cleanout can begin. If you are in the greater Oklahoma City area, call Dumpstermaxx or fill out our online contact form today. One of our friendly and knowledgeable staff will be happy to guide you.  Remember, when choosing a dumpster to take how much junk is in your home to account. A 30-yard dumpster usually winds up being the best value in most cases.  So, get in touch today!