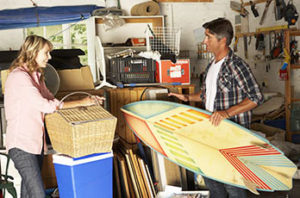 Winters in Phoenix brings mild daytime temperatures which makes it the perfect time to do pre-spring cleaning.  By the time April arrives, you will already have to deal with temperatures near ninety degrees, so it makes sense to start your home cleanout and yard cleanout early.  Let Dumpstermaxx help you have a successful pre-spring cleanout; we can deliver a roll off dumpster directly to your driveway on your schedule, and we will take to the nearest landfill when we are done.
Inside or Outside?
You may ask "Which should I start with, inside the house or outside in the yard?"  The answer is outside when you undertake a pre-spring cleanout you are essentially making sure you beat the brutal Arizona heat.  Clearing junk, old lawn furniture and tumbleweeds from your yard without having to take breaks every fifteen minutes due to the temperature is a welcome respite from the spring and summer months.  You will want to take advantage of the time you have before it really heats up to look for any problems in your yard and the exterior of your home.  Check shingles on the roof to make sure that none are warped or damaged. If the roof needs repair, having it done prior to April will mean that you have a chance to install cooler, energy saving shingles on your roof before it gets hot. Dispose of all the old shingles from your roof in your rental dumpster. Check to make sure the siding on your home is in good shape. If the siding is defective, it can be replaced with cooler, energy saving siding just like shingles.  Remove items such as damaged birdbaths, pieces of scrap that could be hit by a lawnmower. Look for anything that could be a tripping hazard such as a garden hose across a walkway or an old tricycle peaking out of a bush. Smooth and replenish stone paths. Pull weeds from xeriscaping and plant drought-resistant vegetation such as cactus and lantanas.
Out with the old.
After you have completed all your yard cleanup tasks, its time to move on to the home cleanout aspect of your pre-spring cleaning, old dingy furniture that has seen better days and is a magnet for dust mites and pet dander should be thrown out to improve the inside air quality of your home (and to improve aesthetics).  In order to declutter your home throw out any unwanted or damaged exercise equipment, lamps, or junk in general. Clean out closets of unwanted clothes and accumulated junk. Empty cabinets, drawers and the kitchen pantry of junk and canned food that has expired. Replace it with new canned goods for times such as a sandstorm when diving to a grocery store becomes hazardous. Clean out your attic and basement to create additional storage space or create an extra room. It is also an opportune time to have your air conditioning services or replaced. When temperatures are over a hundred degrees in the summer, you will want to be sure your air conditioning is going to work. Dispose of a defective air conditioning unit in your roll off dumpster. Perform a secondary sweep of the inside and outside of the house to make sure no problems have been overlooked and that all items to be disposed of have been thrown in the dumpster.  Dumpstermaxx provides a variety of dumpster sizes to accommodate the amount of waste you will be clearing from your home.

Call Dumpstermaxx today or fill out our online contact form. One of our knowledgeable and experienced staff members will be able to advise you on what size dumpster is required to get the job done.