When it comes to construction projects, home renovation or landscaping, the work will not be completed until you have removed the messy load of dirt and debris on your property. So, how to get rid of it? A great solution to saving both money and time during your construction projects in Oklahoma City, OK is to hire a dumpster rental. Unnecessary waste and tension of recycling; you know how much they last and how much stress they bring. Let us prove why hiring a dumpster rental in Oklahoma City, OK can be a beneficial solution for your next construction project.
Disaster Cleanup
Whether it's natural or unnatural, every disastrous situation leaves a scar in its wake. No matter the severity of disastrous situation, the aftermath is always unwelcoming. Usually disasters come with a huge mess that needs to be cleaned up immediately to start reconstruction of your property. A dumpster rental in Oklahoma City, OK saves stress and time during the hardship like this. Property owners can easily dispose all of their waste in one place and focus more on rebuilding process.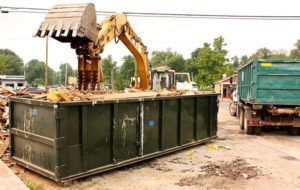 During Construction
Dumpster rentals are especially rented during a construction project. Dumpster rental service providers are a viable solution for disposing of waste and debris material such as large roof shingles, bricks, concrete and other leftovers. A clean, safe dumpster can contain tons of your during and after construction of debris which is more than the capacity of a average truck. You will be saved from damaging your vehicle and cost related to transportation and damage. Dumpsters can easily hold the weight of your large debris and keep it safe away from your construction members as well as family members in a much better way.
Remodeling Work
During a remodeling project, a dumpster rental is a must need for timely completion and clear space for your project. They can easily contain heavy and unsafe debris resulted from your project. From glass, wiring, tiling and drywall; roll off dumpsters are made of strong and durable materials and can contain them away from your property. They aren't just made for construction or remodeling; dumpsters also can be used to dispose of spring cleanup materials. Renting from a professional dumpster rental service provider will reduce the amount of trash produced during your cluttering your home, making the whole project cleaner and specious.
At Dumpstermaxx, we offer fully professional dumpster rental services for Oklahoma City, always at the best prices in town. We have a team of trained and certified rental experts to serve your cleaning needs effectively and efficiently. To get more details on our services, check our complete website or just give us a call at 800-369-6299 for your dumpster rental needs.