Affordable Dumpster Rental in Omaha, NE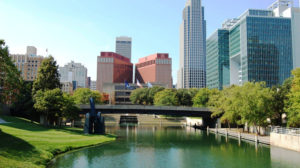 We strive to make dumpster rental in Omaha as affordable as possible. When you rent from us you can expect a fast delivery and pick up every time and always at the lowest prices in town. Dumpstermaxx offers excellent customer service thanks to our professional staff who are always here to make sure you are completely satisfied with our dumpster rental services in Omaha.
Most Competitive Prices
Renting a dumpster in Omaha? Look no further, do not pay higher prices for your dumpster rental when you can get the lowest price through Dumpstermaxx. We strive to make your experience with us quick, efficient, and always at the lowest competitive prices. We have courteous and professional staff here to help you make sure you get the right size roll off dumpster. Our goal is to provide the greatest service, we make sure you are fully satisfied with your dumpster rental from beginning to end.
Reliable and Dependable
We have satisfied many customers who have rented roll off dumpsters with us so you can feel confident you are getting realiable services. There are no worries or concerns about getting a dumpster delivered late, or delayed pick ups. We only hire drivers who are always cautious when delivering our dumpsters and make sure not to damage to your property in any way. When looking for dumpster rentals in Omaha, you have found the best company to deliver promptly and always at the lowest prices in town.
Why choose to rent a Roll Off Dumpster?
Well for many reasons people rent dumpsters. Property owners, Businesses and landlords have a demand for them. Dumpster Rentals are used to remodel a home, office, building, or sometimes just to clean out junk from a home or business. They can also be used for demolitions of decks, sheds and garages. Construction companies and homeowners rent our bigger size 20, 30, and 40-yard dumpsters when they are constructing a new home or adding on a large addition. If you are in need of a Dumpster Rental, please contact us today and we will help you figure out what size is needed, scheduling delivery and pick up, and placement of the dumpster. Our customer service staff is ready to help you with any questions you may have.
Give us a call toll free at 1-800-369-MAXX (6299)
Typical Waste Removal Projects are as below:
• Home/Business remodeling
• Building structure demolition
• Landscaping projects
• Roof tear offs
• Home or business Junk Removal
Dumpster Pricing
**BEWARE** Other companies may offer lower prices and although their pricing may seem great and cheaper than the rest, they charge a low rate to bring the dumpster out to your location but they include NO WEIGHT. The end result is a hefty additional fee once the dumpster is picked up and the materials inside are disposed.
At Dumpstermaxx we have a Truth in Pricing Policy. Dumpstermaxx believes in 100% pricing transparency with no surcharges. There are no fuel surcharges, no environmental surcharges, no delivery charges and no sales tax. The prices listed here on our website are the prices you pay. Period!
Prior to Calling
Information needed to order a dumpster:
1. Placement – Where you need the dumpster placed. Example; driveway, side yard.
2. Size – What size is big enough for the amount of materials you are disposing of
3. Type of Materials – Certain materials may or may not be more costly to dispose of
Potential extra fees may apply for these types of materials:
• Tires
• Batteries
• Appliances
• Oil Cans
• Paint Cans
• Other hazardous items containing chemicals
Useful dumpster rental info
Whether you are a contractor, homeowner, commercial business, landlord, property management personnel, or a real estate agent. These helpful tips will help you get the best deals and make sure your dumpster rental process goes smoothly from start to finish. Before you rent a dumpster in Omaha, make sure you compare several local companies and compare the rental prices and services. Decide on which dumpster size best fits your waste removal needs, then decide on the materials you are going to dispose of, and finally, think about how long you will need to rent a dumpster for. Visit our frequently asked questions page for more information.
Shop and compare local rental companies for pricing and services.
Some companies might have a longer rental duration, another might have same or next day delivery service, and one might have a special promotion. These promotions or deals in the long run can be way more cost effective than renting a dumpster from a dumpster rental company claiming to have flat rate prices. Technical complications may happen during a project so make sure you put a lot of thought into which dumpster rental company to choose.
Research different sizes.
Choosing the correct size dumpster for your rental is extremely important. Browse our dumpster rental sizes page for help on choosing the best size dumpster for your needs. Make sure you don't just go for the cheapest dumpster. Yes, a cheap dumpster rental sounds great and you may have gotten a bargain for your money. However, choose to small of a dumpster and you may have to rent another dumpster. Sometimes for another $20 to $50 get a bigger size dumpster if not double the size of the dumpster you are considering. Most people truly underestimate the amount of waste they have and many times they choose to small of a dumpster. Sometimes it is best to rent a large 20 or 30-yard dumpster and get your waste removal project done in one load as opposed to renting a 10 yard dumpster 2 or 3 times repeatedly.
Type of waste materials going inside the dumpster.
Figure out what type of materials are going in the dumpster. Although most materials not considered hazardous are safe to throw in the container, some specific items are not allowed. Inform the dumpster rental company what type of waste materials you are disposing of so they can inform you if there will be an extra fee. Prohibited items allowed vary from city to city so inquire with your dumpster rental agent accordingly, some items that are not allowed in one city are allowed in a nearby city. Certain waste facilities have different regulation as far as what type of materials are allowed.
The amount of time you need a dumpster.
Dumpster companies usually specify an amount of days included for your rental period agreement. Having a dumpster longer than the rental period on your agreement will result in an extended rental fee. Always specify the length of time you will need to rent a dumpster.
This useful information will assist you with getting the best dumpster rental deal in town and making sure the process goes as smoothly as possible.
Click here for our Omaha Dumpster Rental Pricing information. Call us at 402-200-4420 or Toll free at 1-800-369-MAXX (6299) for more information or to place an order.