FREQUENTLY ASKED QUESTIONS
WHAT CAN I PUT INSIDE?
CONSTRUCTION MATERIAL:
Generally, if the material is used to construct a home or building it is considered construction material. Some of these materials include plywood, sheet rock, wood, roofing, piping, cabinets, flooring, concrete, brick, and most other residential or commercial remodel debris. Some materials are not accepted such as Pressure Treated Wood or Hazardous Wastes.
HOME/BUSINESS CLEAN OUT MSW MATERIAL:
MSW is simply the term used to describe trash/garbage/junk – the stuff you throw away in the kitchen, in your bathroom, in the garage, etc. MSW encompasses product packaging, consumable goods (egg cartons, juice containers, old furniture, ruined clothes, bottles, and so on) as well as things like old batteries, books, beds, and mostly any other home or business junk you need to throw out. No hazardous waste permitted.
YARD WASTE MATERIAL:
Outside organic earth elements such as grass clippings, leaves, brush, branches, tree removal, land clearing, soil, dirt, sod, landscape debris, and garden waste only.
RECYCLABLE CONCRETE MATERIAL:
In order for us to recycle concrete it must be only concrete and uncontaminated, which must be free of trash, wood, paper and any other such materials not considered concrete. Metals and rebar in some waste facilities/counties may or may not be accepted. Please specify if the concrete will contain metals and rebar at the time of placing the order and we will determine whether it is allowed based on the counties guidelines. If the load is considered contaminated due to mixing other non concrete debris or having metals and rebar when not allowed we will have to take your debris to a regular waste facility or landfill and charge a per ton disposal charge based on the weight and the type of material loaded in the dumpster.
Please specify which material you are renting the dumpster for when placing the order. Whether you rent the dumpster for construction, home clean out, yard waste, or concrete debris you must never mix materials unless speaking with our consultants first. Many waste facilities handle mixed or hazardous debris differently and these materials in many cases may or may not affect pricing. If there is ever a question about what can or cannot go inside the dumpster please contact us.
​
WHAT ARE HAZARDOUS WASTE ITEMS?
HAZARDOUS / PROHIBITED MATERIAL:
Even though we take great pride on our ability to help customers with all kinds of different waste; there are still specific items that we absolutely cannot accept in our dumpsters. This applies to any and all flammable, toxic, or hazardous materials, as well as additional items that you cannot throw in a dumpster. To find out if your materials fall under these categories check for warning labels and symbols on the items in question. Most chemical products will fall under these categories, including household cleaning solutions and sprays.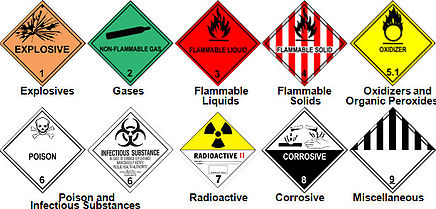 If any of these symbols on your waste items are present, check for disposal instructions on the label. If none are present, contact your local sanitation department to find a hazardous waste collection center near you
More prohibited items include the following:
Tires | Batteries | Stumps | Railroad Ties | Pressure Treated Wood | Paints | Oils | Asbestos | Infectious Waste | Contaminated Soils & Absorbents | Ink & Resins | Industrial Drums | Food Waste | Fuel | Adhesives | Refrigerants | Some Appliances
Tires
Tires are prohibited due to the damage they can cause to landfills. Complete tires are capable of floating to the top of a landfill as methane gas builds up inside the tire's inner wall, breaking plastic liners and ventilation pipes in the process. Tires should be brought to local recyclers or reclamation companies in your area.
Batteries
All batteries are particularly hazardous due to their lead-acid composition. These batteries contain high levels of lead and other heavy metals that cannot be mixed with other wastes. Anytime you find yourself with a dead car battery, take it to an auto parts store or authorized recycling center.
Stumps
Tree stumps are generally prohibited from landfills due to their bulkiness and damage it causes to the landfill liners. That being said, you have a couple of different options for disposal. You can call up your local recycling center to see if they accept tree stumps, rent a wood chipper and reduce your stump to mulch for your trees or garden, or hire a landscaping company to remove it for you.
Railroad Ties / Pressure Treated Wood
Railroad ties are pieces of creosote treated wood used in the construction of railroad tracks. Railroad ties fall under prohibited items because of their creosote content, a substance originating from pitch tar that can be harmful when handled improperly. They are generally not accepted by landfills and should be disposed of according to local, state, and federal guidelines. It is not advised to burn or mulch railroad ties as their creosote coating can release harmful chemicals into the air.
Paints & Lacquers
Paints and lacquers are prohibited due to their potential for containing harmful elements such as lead or mercury, especially those manufactured before the 1990's. They can also damage and permanently stain equipment such as garbage trucks and dumpsters. If you have leftover paint cans, consult our guide to learn how to properly recycle or dispose of them.
Oils
Prohibited oils include those used in automobiles and those used as general industrial lubricants. Used motor oil can be recycled through various nationwide retailers, also at most auto parts and mechanic shops.
Asbestos
Asbestos is a flame retardant material usually found in older homes and various industrial products. It is considered to be a carcinogen in most US states and is therefore banned from most landfills. Removing asbestos containing materials from homes or offices is highly dangerous and should only be done by licensed contractors.
Infectious Waste
Infectious waste consists of materials used in medicine or that have come into contact with bodily fluids. Items such as hypodermic needles and used bandages should be disposed of through waste haulers that are licensed to handle, transport, and dispose of medical waste.
Contaminated Soils & Absorbents
Contaminated soils and absorbents that are mixed together with hazardous substances cannot be disposed of through normal MSW haulers. Contaminated soils must either be treated or contained per federal superfund guidelines. Contaminated absorbents must likewise be treated or disposed of via hazardous waste processors.
Ink & Resins
Ink used in pens and printers, as well as resins, cause damage to equipment and stain the interior of dumpsters. These are best disposed of through recycling centers or retailers with drop-off locations.
Industrial Drums
Industrial drums are used to contain the byproducts of many different industrial processes. Often, these substances are considered hazardous and should be disposed of through licensed haulers and industry participants. Clean drums can be recycled as scrap metal.
Food Waste
Food is not allowed for disposal in our dumpsters due to its potential to attract vermin and spoilage. If you have to dispose of large amounts of food waste, consider using municipal trash services or sending the waste to local composting centers.
Fuel
All fuel types are prohibited from landfills, and our dumpsters. Gasoline/petroleum is highly flammable and should only be disposed of if it can no longer be used as a fuel source. Disposal should only be handled by hazardous waste disposal centers. Contact your local fire department or recycling center to find hazardous waste disposal centers near you.
Adhesives
Adhesives such as glue or epoxy should be disposed of with regular household trash or recycling, rather than a dumpster. Loose adhesives cause damage the container or cause waste items to become entangled and hard to remove.
Refrigerants
Anything containing refrigerant must be removed according to federal disposal guidelines. This is to ensure that no hazardous chemicals are introduced into the environment. Refrigerators that are properly drained can be disposed of using regular dumpsters in some cases, contact us to determine if we can accept your refrigerator.
WHAT IF I HAVE HAZARDOUS MATERIAL?
Do not mix hazardous material in your load. If you have not already loaded the dumpster with this material please contact your local municipal waste department and they may be able to advise you on where this material can be disposed of. If this material is found in the dumpster the waste facility may charge a penalty per item cost. Please see the service agreement below for a list of hazardous item charges.

WHAT IS THE SERVICE AGREEMENT?
Agreement
This agreement legally binds the ("Customer") and Dumpstermaxx to the terms listed below and in accordance with the laws of the State of Florida in effect at the time of ordering a dumpster with Dumpstermaxx. Dumpstermaxx agrees to provide "Customer" with non-prohibited / hazardous solid waste collection, transportation, disposal and recycling services.
Service
"Customer" agrees to give Dumpstermaxx at least one (1) business day notice for dumpster service. If a request for service is received after 12 p.m. eastern standard time, Dumpstermaxx can not guarantee service for the next business day. In some rare cases a delay could be incurred in servicing your needs due to inclement weather, traffic conditions, equipment failure, etc.
Equipment
All equipment furnished by Dumpstermaxx will remain the property of the company, however "Customer" shall have care, custody, and control of the equipment and shall bear responsibility and liability for all loss or damage to the equipment and for its contents while at "Customer's" location. "Customer" shall not move or alter the equipment and shall use the equipment only for its intended purpose. "Customer" shall provide unobstructed access to the equipment on the scheduled pick-up day. Dumpstermaxx is NOT responsible for any damage to "Customer's" property, including walkways, curbing, pavement, driveways, pavers, irrigation, wells, septic or underground utilities resulting from the company's provision of services. "Customer" warrants that the right of way is sufficient to bear the weight and physical dimensions of the Dumpstermaxx equipment and vehicles. "Customer" understands that lawn damage may occur during a project. No repair is offered or provided.
Inability to Deliver or Pick Up a Dumpster
If Dumpstermaxx or partners attempts to deliver or pick up a dumpster and the dumpster is blocked or a gate is locked or prevented from delivering or picking up a dumpster (including being turned away at the time the driver is present to perform service) the "Customer" will be charged a $100 to $200 (determined on time, distance, and fuel) No Service fee.
Overfilled Dumpsters
"Customer" agrees not to overload / over-fill the dumpster above the top rail of the dumpster. An over-filled dumpster may allow debris to fall out and damage other cars and trucks and it is against the law to transport a dumpster in this manner. Dumpstemaxx reserves the right to refuse to pick up an over-filled dumpster. If over-filled, the "Customer" will be responsible for removing over-filled debris to the rim of the dumpster. An additional charge to the "Customer" of a $150 to $175 No Service Charge may occur.
Overweight Dumpsters
Dumpstermaxx reserves the right to refuse to pick-up a dumpster with an estimated weight in excess of 20,000 pounds (10 tons). If overweight, the "Customer" will be responsible for removing debris down to less than 20,000 pounds (10 tons). An additional charge to the "Customer" of a $100 to $200 (determined on distance and fuel) No Service Charge.
Prohibited Waste
"Customer" agrees not to put any hazardous / prohibited / toxic waste in the dumpster, putting this material in the dumpster is illegal. Any hazardous or toxic waste placed inside of the dumpster will become the responsibility of the "Customer". At Dumpstermaxx' discretion, Dumpstermaxx may return the hazardous or toxic waste found in the dumpster and charge the "Customer" a $150 to $175 Return Charge. At Dumpstermaxx' discretion, Dumpstermaxx may charge "Customer" a disposal fee for the hazardous or toxic waste found in the dumpster as detailed below in section called Disposal Fees. Hazardous or toxic waste includes industrial waste, waste containing asbestos, septic tanks & waste, paint, cleaning solutions, biomedical waste, pesticides, solvents, automobiles, automobile parts, tires, oil, oil filters, oil containers, gas cans, propane tanks, batteries of any kind, appliances with Freon (air conditioners, refrigerators, freezers, etc.), Freon aerosol cans, foam spray cans, electronics (Computers, monitors, computer parts, televisions, stereo equipment), hazardous waste devices containing mercury, fluorescent bulbs (in some rare cases some ballasts and light fixtures contain this and it is up to you to know the type of ballast you are disposing of), telephone poles, railroad ties, clothing of any kind and household garbage food garbage.
Daily Rental
Each dumpster rental includes a specific amount of days in the rental, which is listed on the website and in the order confirmation sent to the "Customer". A daily rental fee of $5.00 or $10.00 per day will apply after the included number of days if the dumpster is not emptied & returned or removed at the "Customer" request. If the dumpsters is emptied & returned, the next dumpster is considered a new rental and includes the same number of days as the first dumpster.
Disposal Fees
At Dumpstermaxx' discretion, Dumpstermaxx may charge "Customer", and "Customer" agrees to pay, a disposal fee for the hazardous or toxic waste found in the dumpster as follows:
Car Batteries $40 each | Truck Tires $50 each | Car Tires $25 each | Florescent Bulbs $25 each | Paint Cans (containing paint) $20 each | Propane Tanks $50 each | Oil Cans $25 each | Freon Aerosol Cans $100 each | A/C Compressors $200 each | Window A/C $200 each | TV, Computer, Monitor $25 each | Small Electronic Equipment $25 each | Refrigerators $100 to $200 each based on size | Large Appliances $50 to $100 each based on size
Note: If household garbage (food garbage) is found bagged in the dumpster the "Customer" will be charged $25-$50 per bag. If household garbage (food garbage) is found loose in the dumpster, Dumpstermaxx will estimate the number of bags value and the "Customer" will be charged $25-$50 per bag.
Indemnity
The "Customer" agrees to indemnify, defend, and save Dumpstermaxx harmless from and against any and all liability which the Dumpstermaxx may be responsible for or pay out as a result of bodily injuries (including death), property damage or any violation or alleged violation of the law to the extent caused by "Customer's" breach of this Agreement or by any negligent omission or willful misconduct of the "Customer" or its employees, agents, or contractors in the performance of this agreement. Neither party shall be liable to the other for consequential, incidental, or punitive damages arising out of or in connection with the performance or non-performance of this agreement.
*We currently do not offer our services in FL, NC, SC, MI, PA, IL, MO, and GA.
WHAT IS THE RETURN/CANCELLATION POLICY?
If you cancel your order the day before your scheduled delivery, or the day of delivery by early AM hours, there will be a $10 cancellation fee as long as the dumpster is not currently in the process of being delivered or picked up. If the dumpster is currently in the process of being delivered you will receive a refund equal to the disposal cost (the weight included multiplied by the additional weight per ton charge). If the dumpster is in the process of being picked up then there will be a $150 No Service Charge.
WHAT SIZE DUMPSTER SHOULD I ORDER?
Figuring out which dumpster rental size is big enough for your project is very important. Order too small of a dumpster and it can lead to overloaded charges and/or delays in completing your project. Roll-off dumpster sizes are measured in cubic yards and are usually offered as 10, 20, 30 or 40 yard dumpsters.
10 yard Dumpster
A 10 yard dumpster has the capacity of holding 10 cubic yards of material. Common dumpster dimensions for a 10 yard dumpster are: 10 ft. long by 8 ft. wide by 4 ft. high, although these dimensions may vary. A 10 yard dumpster may be appropriate for projects involving removal of material from a small basement or garage cleanout, 250 sq. ft deck, 1500 sq. ft. of roof shingles, yard debris or a small kitchen and bath. Click here for 10 Yard Dumpster Rental Information.
20 yard Dumpster
A 20 yard dumpster has the capacity of holding 20 cubic yards of waste. Its dimensions typical measure 22 ft. long by 8 ft. wide by 4.5 ft. high. This size dumpster may be the right dumpster size for a large basement, attic, or garage cleanup. It may also be the right size for flooring and carpet removal in larger homes, 300 to 400 sq. ft. of deck removal or 2500 to 3000 sq. ft. of roof shingles. Click here for 20 Yard Dumpster Rental Information.
30 yard Dumpster
A 30 yard dumpster has the capacity of holding 30 cubic yards of waste and typically measures 22 ft. long by 8 ft. wide by 6 ft. high. This dumpster may be the right choice for a major home addition, new home construction, garage demo, or replacing windows or siding on a small-to-medium sized home. Click here for 30 Yard Dumpster Rental Information.
40 yard Dumpster
A 40 yard dumpster has the capacity of holding 40 cubic yards of waste and commonly has dimensions of 22 ft. long by 8 ft. wide by 8 ft. high. A 40 yard dumpster may be the optimal choice for a cleanup involving window or siding replacement on a large home, commercial roof jobs or cleanouts, new construction or major additions or removal of massive amounts of trash. It is very important that dumpster does not exceed our maximum loading weight on this size specifically or it will be too heavy for our truck to pick up and in this case a service fee may apply. Click here for 40 Yard Dumpster Rental Information.
Another simple way to making the right choice when it comes to renting dumpster is through getting opinions. In case your having a construction project, you will have a contractor. It will be very important to inquire from the contractor the dumpster size that they think is appropriate for that particular job. They often do this and thus they will be able to recommend to you a precise estimate.
Please see dumpster size examples below or click here for a detailed Dumpster Rental Size informational page.
*Most container sizes are as shown below; however, not all dumpsters are exact. Height and length may vary but always true in cubic yard dimensions.