Dumpster Rental Fargo ND
NO DELIVERY CHARGE, NO FUEL CHARGE, NO HIDDEN FEES!
Low Cost Roll Off Dumpster Rentals in Fargo ND
Our Fargo dumpster rental service always provides the lowest prices in town! We make waste disposal and junk removal the easiest for any project, from remodeling your home to cleaning out the attic or garage. Call 800-369-MAXX today and rent a roll off dumpster that's easy, convenient, and affordable.
Our roll off dumpster rentals in Fargo, ND are available in 15 and 20 cubic yards containers.
Always affordable prices and no hidden fees.
Our customer service staff will make sure your dumpster rental gets delivered on time and that all your expectations are met.
Our convenient dumpster deliveries do not require you to be home or at your work site.
Beware of other companies claiming to be less expensive, they include no weight, the end result is a costly additional fee!
Simple, easy, and painless ordering call us now at 800-369-MAXX to place an order for Dumpster Rentals in Fargo.
15 YARD
1 ton (2000 lbs) of weight included
$54.00 for each additional ton
10 days included $10 each additional day
20 YARD
2 tons (4000 lbs) of weight included
$54.00 for each additional ton
10 days included $10 each additional day
Pricing above is for
ZONE 1
FARGO AND WEST FARGO AREAS INSIDE CITY LIMITS ONLY
ZONE 2
Add $25 NORTH RIVER, OAKPORT, REILE'S ACRES, HORACE, ST BENEDICT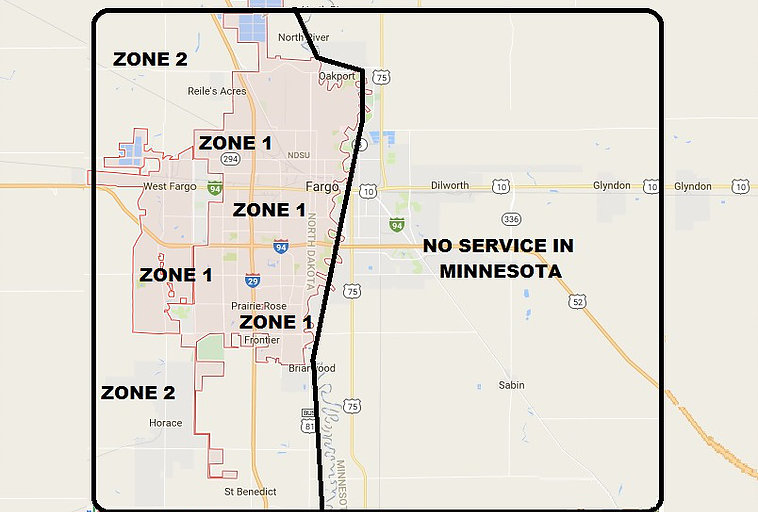 Questions regarding dumpster rental services in your area? Contact us today for pricing and other information about local dumpster rental services in your city.
LOCATIONS NEAR THIS CITY:
Abercrombie
Argusville
Arthur
Buffalo
Cass County
Casselton
Christine
Colfax
Davenport
Enderlin
Fargo
Frontier
Grandin
Harwood
Horace
Hunter
Kindred
Leonard
Mapleton
Mooreton
Oxbow
Reiles Acres
Richland County
Sheldon
Tower City
Wahpeton
Walcott
West Fargo
Wyndmere
---
For more information please click here to visit our Frequently Asked Questions Page.
IMPORTANT INFORMATION:
We will not be able to deliver your dumpster and we will charge an additional fee if:
Dumpster placement location is blocked by vehicles or materials.
Low hanging tree branches, low power lines, or the surface is uneven or on an incline.
We are not able to pick up your dumpster and you will be charged a trip fee if:
Access to dumpster is blocked by vehicles or materials.
Your dumpster is over loaded past the rim, contains any prohibited items, or is loaded with excessive heavy materials with items like concrete, brick, and dirt etc unless otherwise stated when the order is placed.
HELPFUL DUMPSTER RENTAL VIDEOS:
Dumpster Rental, Fargo ND - Affordable Waste Collection in Your City
​
Waste removal is offered in many shapes and sizes. When your waste removal project calls for a dumpster rental in Fargo ND, let Dumpstermaxx handle it. Our knowledgeable team of dumpster experts is always ready to help you get the lowest prices and acceptable rental terms on your dumpster. We put ourselves in the consumers shoes to think of your needs, struggling to find the correct dumpster rental that is suitable for your needs. Our goal is to make your dumpster rental process as smooth as possible from beginning to end.
AT DUMPSTERMAXX, YOU CAN SAVE MONEY ON YOUR DUMPSTER RENTAL:
Always get the cheapest roll-off dumpsters in your city
We offer a large range of dumpster rental sizes, from 10-yd. to 40-yd.
Work with profession dumpster rental experts
For the best dumpster rentals in Fargo, we work closely with our network of local haulers and complete the process from start to finish