40 Yard Dumpster Rental Capacity and Dimensions
We offer dumpster rental sizes for every type of debris removal. Whether it is for demolishing a building, remodeling a kitchen, or junk removal from your home or office. We have dumpsters ranging from 10 to 40 cubic yards to get the job done. See what size works best for your task using our chart below to determine which is the best dumpster rental option for you.
Dimensions: 40 Yard Dumpsters typically measure 20 Feet Long x 8 Feet Wide x 7 Feet Tall
Capacity: 40 Yard Dumpsters hold 40 cubic yards of material, or equivalence of 12 pickup truck loads.
Weight Limit: 40 yard dumpsters have the capacity to hold 10 tons of material or more. Weight limits vary by location.
Dumpster Placement: A 40 yard dumpster is capable of fitting in most driveways, accessible door on back for easier loading.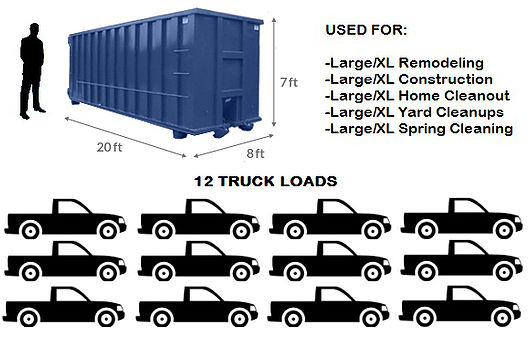 Figuring out which size dumpster is big enough for your project is very important. Order too small of a dumpster and it can lead to overloaded charges and/or delays in completing your project. Roll-off dumpster sizes are measured in cubic yards and are usually offered as 10 yard, 20 yard, 30 yard, or 40 yard dumpsters.
Another simple way to making the right choice when it comes to renting dumpster is through getting opinions. In case your having a construction project, you will have a contractor. It will be very important to inquire from the contractor the dumpster size that they think is appropriate for that particular job. They often do this and thus they will be able to recommend to you a precise estimate.
Questions regarding dumpster rental size is best for you? Contact us, our knowledgeable team is always ready to help 805-552-MAXX.
​
​